If you have a recipe that you would be willing to share with our guests, please send us an email to chuckwagonsupply(at)yahoo.com. Please be sure to give credit to the author of the recipe including yourself if it is your creation.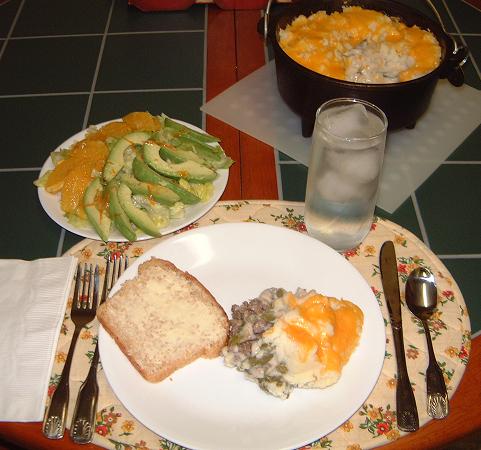 This recipe gives some general guidelines on quantities and instructions on preparation. It is left up to the chef to determine what amount to cook depending on the appetite and number of guests being served. If your guests have hearty appetites prepare larger serving sizes. It is quick and easy to prepare and doesn't require a lot of fancy ingredients.
Shepherd's Pie
Source: Jane Miles
Hamburger/ground meat-1/4 pound per person
Diced onion-1/4 cup per person
Salt and pepper-to taste
Green beans, drained-1/2 cup per person
Condensed Cream of Mushroom Soup-1/4 cup per person
Mashed potatoes-1/2 cup per person
Shredded Cheddar Cheese-1/4 cup per person
In your Dutch oven (see size guidelines below) brown hamburger; (can use turkey burger, venison burger, sausage or a mixture of any ground meats) and diced onion; salt and pepper to taste. Drain meat when cooked. On top of browned meat add a layer of green beans. On top of green beans spread a layer of undiluted condensed cream of mushroom soup. Next put a layer of mashed potatoes; can use left over mashed potatoes or instant mashed potatoes. Cover Dutch oven and bake at 350˚ for approximately 30-45 minutes or until heated through. Add shredded cheddar cheese to the top, return cover and allow cheese to melt before serving. Adding a little more or less of any ingredient is not going to ruin the recipe. Round out amounts to use up package or can. If you like the taste of garlic, add minced garlic to the browning hamburger & onion mixture.
Ø

8" oven shown with approximately 3/4 lb cooked hamburger and 3/4 small diced onion
Ù 14.5 oz can drained green beans added
Ú10 3/4 oz. can condensed cream of mushroom soup spread on top of beans

Û

Approximately 2 cups of mashed potatoes placed in a ring around outside of oven.

Ü

1 cup of shredded cheddar cheese has been added after heating and allowed to melt.

Ý

Add a salad and some bread and you've got a complete meal to enjoy! Made 4 servings.
| | | | |
| --- | --- | --- | --- |
| Dutch Oven Size | Serving Capacity | Bottom Charcoal Briquettes | Top Charcoal Briquettes |
| 8 inch | 3-4 servings | 6 | 12 |
| 10 inch | 6-8 servings | 8 | 14 |
| 12 inch | 12-15 servings | 10 | 16 |
| 14 inch | 16-20 servings | 12 | 18 |
These are approximate guidelines only and allow for the chef to use their own judgment.