If you have a recipe that you would be willing to share with our guests, please send us an email to chuckwagonsupply(at)yahoo.com. Please be sure to give credit to the author of the recipe including yourself if it is your creation.
This sweet bread recipe (Povatica) comes from Eastern Europe (Slovenia). It is commonly served at Christmas and Easter time. Apparently there are different ways to prepare it depending on where you're from in Europe. And of course, I've adapted it to fit cooking it in the Dutch oven. It works great as a dessert or as a snack with coffee or hot chocolate.
NUT ROLL COFFEE CAKE
(Povatica)
Source: Jane Miles
Category: Breads/Desserts
Oven Size: 12" Dutch Oven
Briquettes: 11 Bottom, 17 Top
Serves:
In a large mixing bowl, dissolve 1 package yeast (2 1/2 teaspoons) in 1/4 cup very hot tap water (110º to 115º). Add 1 cup melted cooled butter, 1/2 cup warm milk (110º to 115º), three egg yolks (reserve egg whites for filling) 2 tablespoons sugar, 1/2 teaspoon salt and 3 cups all-purpose flour; beat until smooth. Do not knead. Cover and let set for 10 minutes.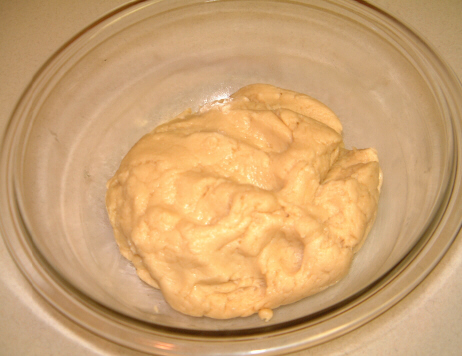 Filling: In a small mixing bowl beat three egg whites, 1 teaspoon vanilla extract, 3/4 cup sugar, and 2 1/4 cups ground walnuts. ( I put the walnuts through the smallest grating tool in my food processor.) Set filling aside.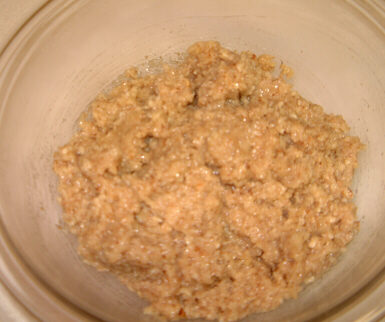 Divide dough in half. Roll each portion into a 20-in. x 13-in rectangle. Spread half of filling over each rectangle to with in 1/2-in. of edges. Roll up jelly roll style, starting with the long side; pinch seams to seal.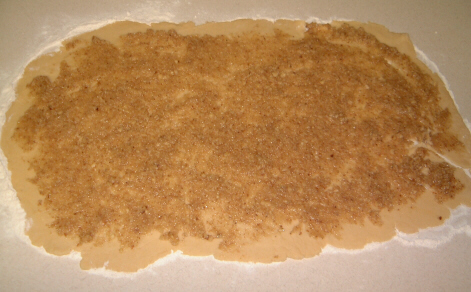 Place first roll seam side down around outside edge of lightly greased 12" Dutch oven. Place second roll seam side down around inside of first roll. Let raise to double in size. Cover and let raise until double in bulk, about 45 minutes.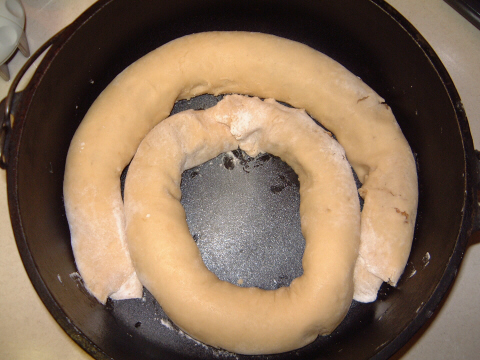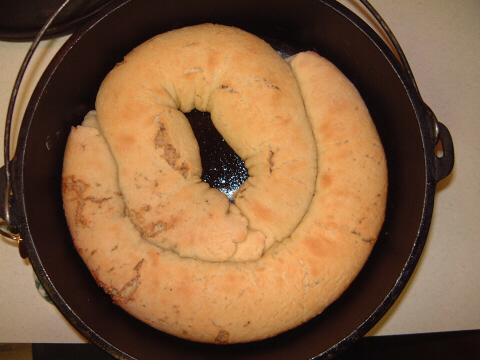 Bake with 11 charcoal briquettes on the bottom and 17 charcoal briquettes on the top for approximately 35 minutes. Remove bottom briquettes and cook an additional approximately 20 minutes with top heat only. The raising and baking times are approximate and depend greatly on the ambient temperature. The Povatica should be a golden brown when finished baking. Remove from Dutch oven onto wire rack to cool. Place cooled Povatica loaves onto 13" pizza pan.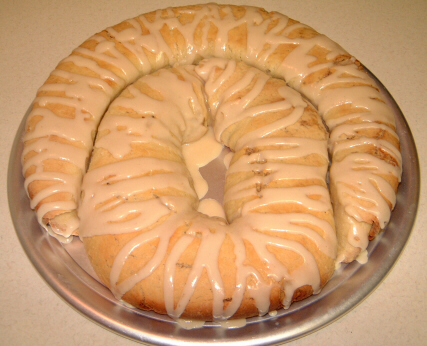 In a small bowl combine 3/4 cup confectioners' sugar, 1 teaspoon softened butter, 1 teaspoon vanilla extract, and 3 to 4 teaspoons milk. Drizzle Glaze over coffee cakes. Slice to serve.