For great spices at great prices go here.
---
Check out our other delicious recipes:
If you have a recipe that you would be willing to share with our guests, please send us an email to chuckwagonsupply(at)yahoo.com. Please be sure to give credit to the author of the recipe including yourself if it is your creation.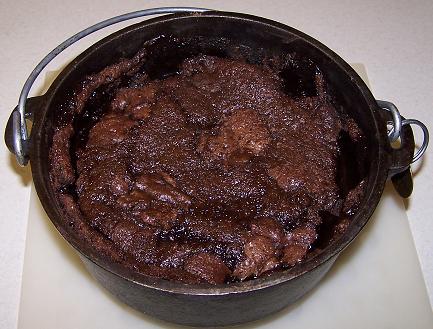 Hot Fudge Pudding Cake
Recipe from: Leonora Burton
8" Dutch Oven
6 bottom Briquettes
12 Top Briquettes
Serves: 8
In a bowl stir together 3/4 cup sugar, 1 cup all-purpose flour, 3 tablespoons cocoa, 2 teaspoons baking powder, and 1/4 teaspoon salt. Stir in 1/2 cup milk, 1/3 cup melted butter, and 1-1/2 teaspoon vanilla extract; beat until smooth. Pour batter into to an ungreased 8" Dutch oven.
In the same bowl used above stir together 3/4 cup sugar, 1/2 cup brown sugar, and 4 tablespoons cocoa; sprinkle evenly over batter. Pour 1-1/4 cups hot water over top; do not stir. Bake with 6 Charcoal briquettes on the bottom and 12 charcoal briquettes on the op for 35-40 minutes or until center is almost set. Let stand 15 minutes; spoon into dessert dishes, spooning sauce from bottom of Dutch oven over the top. Garnish with whipped top if desired. Yield 8 servings.