For great spices at great prices go here.
---
Check out our other delicious recipes:
If you have a recipe that you would be willing to share with our guests, please send us an email to chuckwagonsupply(at)yahoo.com with your recipe formatted similar to the one below. Please be sure to give credit to the author of the recipe including yourself if it is your creation.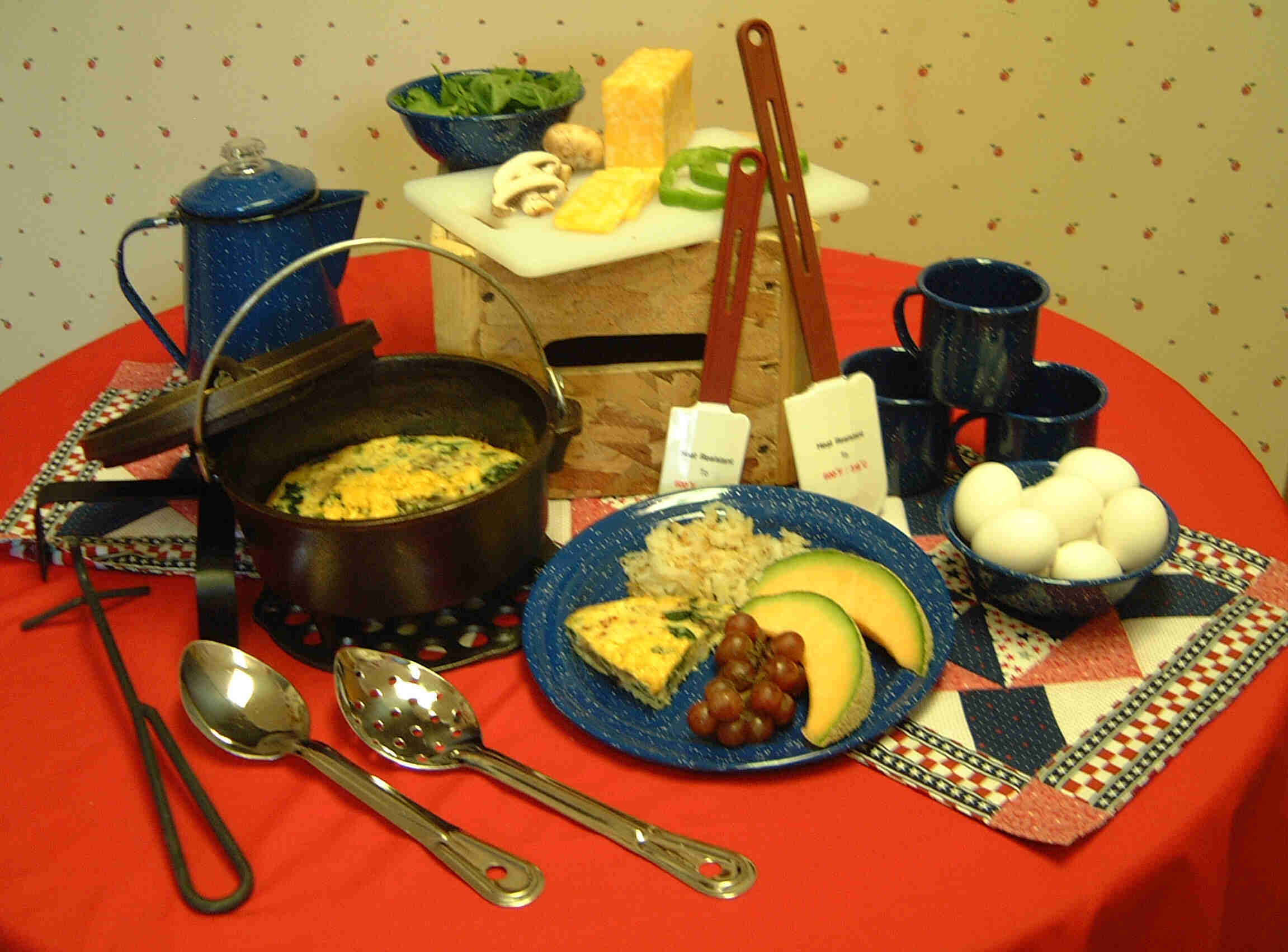 Using A Dutch Oven is possible even when you are just cooking for two. Try this great breakfast omelet for two. Add some fruit and hash browns or toast to make this a complete & tasty meal.
All cooking equipment shown in this photo is available for purchase. Visit the Products/Services section for more information and pricing.
Name: Mushroom Spinach Omelet Source: Jane Miles
Category:
Main Dish
Oven Size:
8
inch
Briquettes:
11 Top; 5 Bottom
Serves:
2
4
eggs
1 Tbsp.
grated Parmesan cheese
1/2 cup
shredded cheddar cheese
1/4 tsp.
salt
1/8 tsp.
crushed red pepper flakes
1/8 tsp.
garlic powder
1/8 tsp.
pepper
1/2 cup
sliced fresh mushrooms
2 Tbsp.
finely chopped green pepper
1 cup
torn fresh spinach
1 Tbsp.
finely chopped onion
1 Tbsp.
butter
In a small bowl, beat the eggs. Add parmesan cheese and 1/4 cup shredded cheddar cheese, salt, pepper flakes, garlic powder, and pepper; mix well. Set aside.

In an 8-inch Dutch oven sauté the mushrooms, green pepper, and onion in butter for 4-5 minutes or until tender. Add spinach; cook and stir until spinach is wilted. Add egg mixture. Cook until eggs are set, about 10-20 minutes with 11 briquettes on top and 5 briquettes on the bottom. Sprinkle remaining shredded cheddar cheese on top and allow it to melt. Serve Immediately.
Enjoy!