If you have a recipe that you would be willing to share with our guests, please send us an email to chuckwagonsupply(at)yahoo.com. Please be sure to give credit to the author of the recipe including yourself if it is your creation.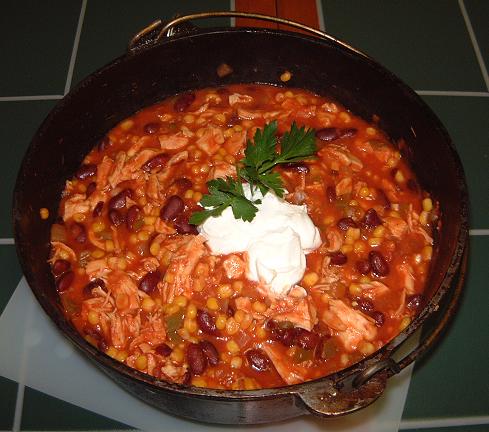 Leonora Burton
10" Dutch Oven
8 Bottom Briquettes
14 Top Briquettes
Serves: 4-6
In a ten inch Dutch oven combine 1 can (15.25 ounces) kidney beans, drained; 2 cups frozen corn or 1 can (15.25 ounces) corn, drained; 1 jar (16 ounces) salsa; 1 can (10¾ ounces) condensed tomato soup; ½ teaspoon cumin; and 2 boneless skinless chicken breast halves, cut into large chunks. Cook with 8 charcoal briquettes on the bottom and 14 charcoal briquettes on the top for approximately 45 minutes. Using two forks shred chicken pieces. Replace lid and bake for another 15 minutes. Serve over steamed rice with a generous dollop of sour cream on top.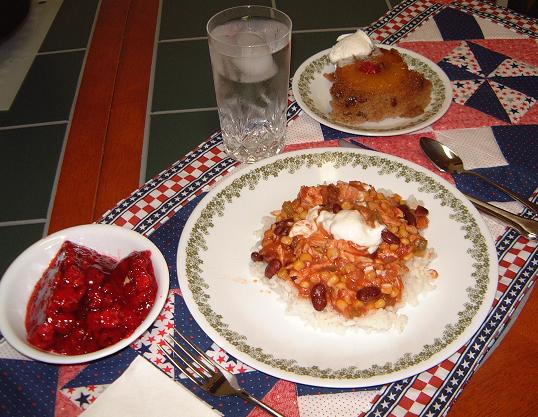 SPICED PINEAPPLE UPSIDE DOWN CAKE
Jane Miles
12" Dutch Oven
10 bottom Briquets
16 Top Briquets
Serves: 12-15
In a 12 inch Dutch oven melt cup of butter; stir in 1 cup brown sugar. Spread evenly over the bottom of the Dutch Oven. Arrange 1 can (20 ounces)sliced pineapple rings over sugar mixture. Place one maraschino cherry in the center of each pineapple slice. Sprinkle with ½ cup chopped pecans and set aside.
In a mixing bowl, cream together 1½ cups sugar; cup butter. Beat in 2 eggs; 1 teaspoon vanilla; and 1 cup buttermilk. Mix in 2 cups all-purpose flour; 2 teaspoon baking powder; ½ teaspoon baking soda; ½ teaspoon salt; ½ teaspoon ground cinnamon; and ½ teaspoon nutmeg.
Carefully pour batter over the pineapple. Bake with 10 charcoal briquettes on the bottom and 16 charcoal briquettes on the top, arranged around the outside edge of the oven only. Bake for approximately 50-60 minutes, or until a toothpick inserted near the center comes out clean. Immediately invert onto a 13" aluminum pizza pan or a serving platter. Cool before serving. Top with a dollop of whipped topping. Makes 12-15 servings.
| | | | |
| --- | --- | --- | --- |
| | 1 | | 2 |
| | 3 | | 4 Note: If you do not place charcoal briquettes around the outside edge of the Dutch oven while baking, the center will brown faster than the rest of the cake as you can see here. |