If you have a recipe that you would be willing to share with our guests, please send us an email to chuckwagonsupply(at)yahoo.com. Please be sure to give credit to the author of the recipe including yourself if it is your creation.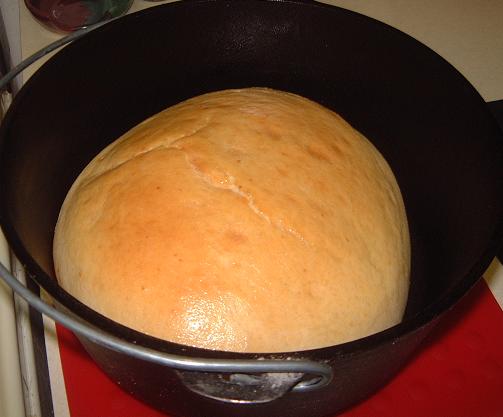 Cheesy Potato Bread
Recipe from: Leonora Burton
10" Deep Dutch Oven
8 bottom Briquettes
14 Top Briquettes
Makes one loaf
Peel, dice, and cook 1/2 cup potato in 3/4 cup water. When cooked mash the potatoes with the cooking water. Add enough more water to make 3/4 cup. Allow to cool. (Can use left over mashed potatoes or instant mashed potatoes.)
In a mixing bowl place 3/4 cup warm mashed potatoes, 1 Tablespoon sugar, 1 teaspoon yeast, 1/2-3/4 cup milk (dough should be slightly sticky to the touch), 2 teaspoons butter, 1/2 cup shredded Cheddar cheese, and 1 teaspoon onion salt. Gradually mix in 3 cups all-purpose flour. Knead dough for 10 minutes.
Allow dough to raise until double in bulk. Punch down and smooth into a rounded shape. Place shaped dough into a 10" Deep Dutch oven that has been coated with cooking spray. Allow dough to rise until almost double in bulk. Bake bread with 8 charcoal briquettes placed in a circle around the outer edge of the Dutch oven and 14 charcoal briquettes placed around the outer edge of the lid for approximately 30 minutes. Remove bottom charcoal briquettes and continue cooking with top heat only for approximately 15 minutes more. Remove loaf from Dutch oven and slice to serve.