If you have a recipe that you would be willing to share with our guests, please send us an email to chuckwagonsupply(at)yahoo.com. Please be sure to give credit to the author of the recipe including yourself if it is your creation.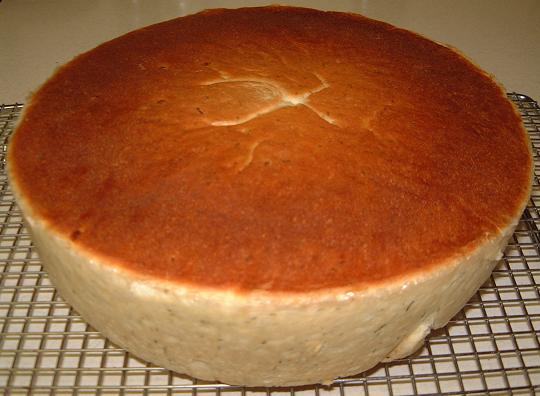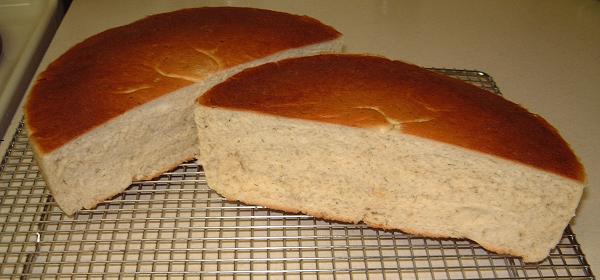 (This was cooked in a 10 inch oven. It seemed to be too shallow and the top got brown faster than the rest of the bread.)
DILL-ONION BATTER BREAD
Jane Miles
10" or 12" Deep Dutch Oven
8 or 10 Bottom Briquettes
14 or 16 Top Briquettes
Makes: One loaf
In a large mixing bowl, dissolve 1 package (¼ ounce) active dry yeast in ¼ cup warm water (110º to 115º). Add 1 cup warm milk (110º to 115º), 2 Tablespoons softened butter, 2 Tablespoons sugar, 1 egg, 2 teaspoons dill weed or dill seed, 2 teaspoons dried minced onion, ½ teaspoon salt, and 1½ cups all-purpose flour. Beat on low speed for 30 seconds; beat on high for 3 minutes. Stir in another 1½ cups all-purpose flour (batter will be sticky). Do Not Knead. Cover and let rise in a warm place until double in size.
Stir the batter down. Spoon into a grease 10" Deep Dutch oven. Cover and let rise until nearly doubled. If weather is to cool for the bread to rise, place 2-3 hot charcoal briquettes on the lid of the Dutch oven. This will make the oven warm but not hot enough to cook the dough.
Place eight charcoal briquettes around the outside edge of the bottom of the Dutch oven. Place 14 charcoal briquettes around the outside edge of the top of the Dutch oven. Bake for approximately 10 minutes. Remove the bottom briquettes and bake another approximately 5 minutes with the top heat only. Check the bread about 5 minutes before it is done to make sure the top of the bread is browning evenly. Rearrange the charcoal briquettes if needed. Remove the bread immediately to a wire rack to cool. Leaving the bread in the oven will cause it to sweat and get soggy.