If you have a recipe that you would be willing to share with our guests, please send us an email to chuckwagonsupply(at)yahoo.com. Please be sure to give credit to the author of the recipe including yourself if it is your creation.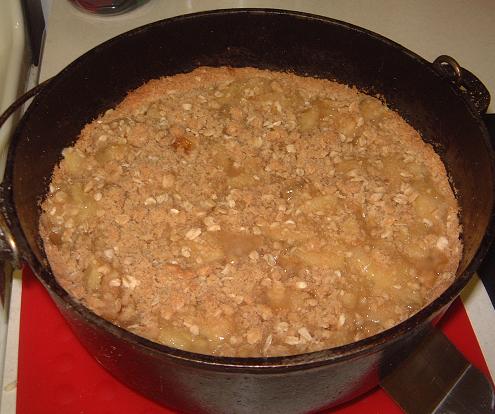 Dutch Apple Pie
Recipe from: Leonora Burton
10" Deep Dutch Oven
8 bottom Briquettes
14 Top Briquettes
Serves: 6
In a bowl or zip lock bag combine 2 cups all-purpose flour, 1 cup packed brown sugar, ¾ cup butter, and ½ cup oats. Set aside one cup for the top of the pie. Press the remaining amount into the bottom and 1½ to 2 inches up the sides of a 10" Dutch oven. Set aside.
In a sauce pan combine ⅔ cup sugar 3 Tablespoons cornstarch 1¼ cup water. Bring to a boil while stirring. Boil for one minute or until thickened. Remove from heat add stir in 1 teaspoon vanilla. Pour over 3 cups of peeled and sliced Granny Smith apples. Mix together and pour into crust previously prepared in the 10" Dutch oven. Sprinkle on the remained 1 cup topping.
Bake with 14 charcoal briquettes under the oven and 8 charcoal briquettes on the top of the oven for 30 minutes. Remove bottom briquettes and continue baking with top heat only for another 10-15 minutes.
Good served with whipped topping or ice cream.